I've been meaning to write about my Goodreads 2016 Reading Challenge because I'm actually working towards finishing it. Knowing myself though, I think I'll just do an update every four months for a reasonable blog posting goal.
So for 2016, I pledged to read 200 books. At the beginning of the year I told myself that this would be easy. Four months in, I'm realizing that this is actually a challenge haha.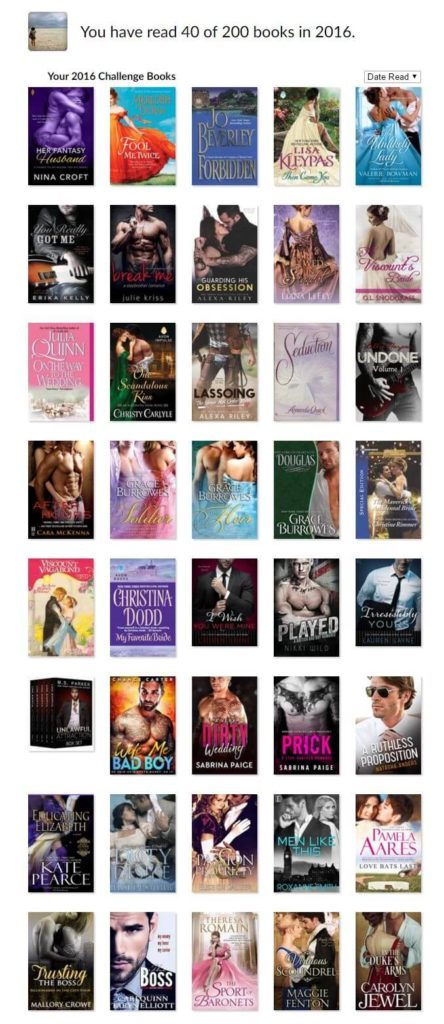 For those unaware, I primarily read romance novels and I used to review them so that's why there's a big screencap of romance novels. I still do review books on Goodreads, but usually it's just a sentence or two about the book and whether I liked it or not.
It's really strange seeing that I've only read 40 books this year because I've definitely read more. I reread a lot and do those count for the Goodreads Challenge? How do you shelf them? Do you change the date on your review? So many questions but I'm definitely starting to realize how difficult this challenge really is.
FAVOURITES SO FAR:
Irresistibly Yours by Lauren Lane — This is my first ever Lauren Lane book and it was so good! I just liked everything about this book to be honest.
Passion and Propriety by Elise de Sallier — Again, another first read from an author and another good book! This is a well-written and sweet historical romance (not a clean romance though) and I've been wanting to reread this actually.
Unlawful Attraction by M.S. Parker — Wonderfully written, very engrossing and really hot. You can read the whole set (it's a 5-part serial, I think) on Kindle Unlimited if you have a subscription. (I was really surprised at how good this was because it was on KU. I should probably stop reading questionable books on KU haha.)
Douglas: Lord of Heartache by Grace Burrowes — While alpha heroes are usually pretty enjoyable to read, sometimes you just want to read a different kind of male protagonist and Douglas is that. As an added bonus, Gwen, the female protagonist, is also pretty darn wonderful. This one has characters from previous series and books, you don't really need to read them first, it might just get overwhelming.
After Hours by Cara McKenna — If you are looking to read a steamy book with an alpha character (but not really an alphahole), this might be a good choice. One of the things I enjoyed was reading about the psychiatric hospital it was set in and how they interacted with the patients. Also, Cara McKenna writes steamy scenes really well so.
You Really Got Me by Erika Kelly — Romances with rockstars/musicians usually aren't my thing, but I really enjoyed the relationship between Emmie and Slater.
Sweetest Scoundrel by Elizabeth Hoyt — Oh man, Asa. If you like them brash/crude heroes but are actually nice dudes, give this one a try. This is #9 in the series but you don't really need to read to the previous books? I mean, I probably should but I managed just fine. Also, this one did a really good job in making me want to read the next book.
Fool Me Twice by Meredith Duran — SO GOOD. I enjoyed everything, the plot, the characters, the side characters, their relationship, it's just so good. Go read it. Do it.
Whew. So many books. But according to Goodreads, not enough haha.
I'm at the point in the challenge where I'm asking myself if I set myself up for failure, but it's only April. Hopefully I'll be able to read 200 new books by the end of year.
Have you ever done the Goodreads Reading Challenge? Have you ever finished it?