Hello everyone and welcome back to another edition of the My Favourite Things linkup! This is a monthly linkup that I co-host with Raisa where we share all of our favourites from the month that's just passed. Come join us and share all your favourites with us!
This month, I wasted my life on anime. Seriously. I finally watched Inuyasha and I didn't know that series had 193 episodes. But I digress.
BUNGOU STRAY DOGS
I was browsing on Crunchryoll aimlessly and saw this series on the front page. I clicked and thought the show was weird enough for my tastes. This series is set in an alternate Japan where people have interesting abilities. The series, both the manga and the anime, is still ongoing so I don't really know where this is headed, but it's an enjoyable ride. The characters are great and the story is interesting and I really want to know what's going to happen next.
I've also noticed that the anime is pretty entertaining even if you've read the manga.
PRINCE OF STRIDE ALTERNATIVE
After Bungou I wanted to watch an anime that wasn't based from a manga. My friend suggested watching Prince of Stride Alternative because it was based on an otome game. And man this show is so cute. It's also kind of a sports anime where the sport is parkour.
Compared to Bungou, Prince of Stride is very light-hearted and silly. If you're in the mood for that plus some sexy anime boyz you should give this a try.
(Also one of the main dudes looks like Haru from Free! and he likes to fondle calf muscles haha.)
OTOME YOUKAI ZAKURO
This anime is one of my new favourites because it's the art is adorable, it has cute romantic pairings and the story is very interesting. Otome Youkai Zakuro follows a task force created to help people and demons living in alternate Japan live with the new modernizations happening due to Western influences. It features 4 half-demons and 3 soldier dudes. The anime is cute, but the manga is more in-depth story wise and I definitely recommend reading the manga if you ever fall in love with the anime.
There are three main pairings in this show and they're all very different but 2 out of that 3 pairings are my catnip/trope babies. (The third pairing is not my thing but they're interesting characters on their own?) If you're like me and you enjoy height differences, being from different stations in society, cranky-ish female character as your catnip/trope babies then you might want to check out this show lol.
MUSHI-SHI-NEXT PASSAGE-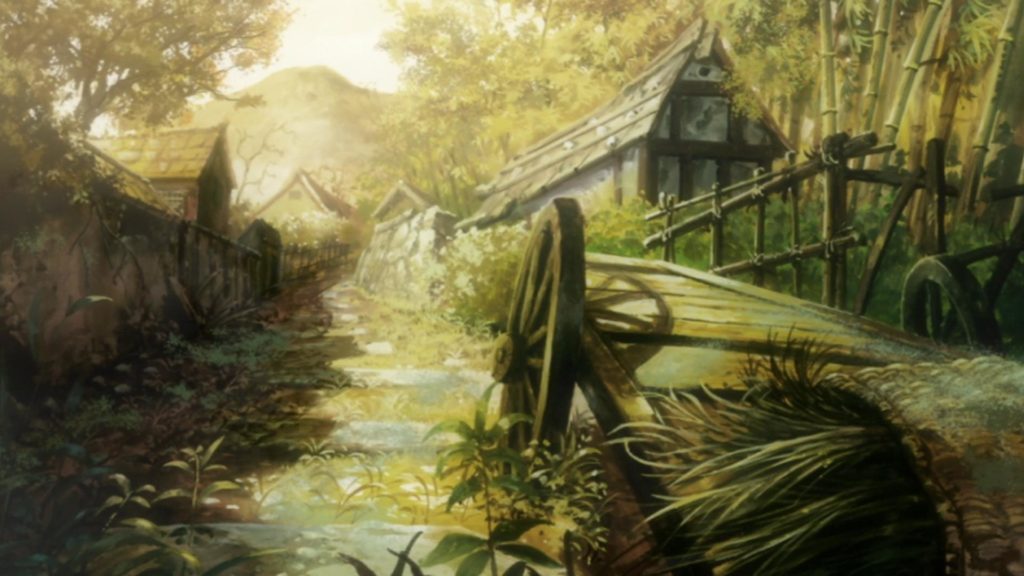 Ah this is my other new favourite because this anime is strange and beautiful thgfxla. Set in the Nara period, a Mushi specialist travels around Japan and meets people affected by the Mushi that live around us. Mushi, from what I've gathered, are invisible creatures that have some power or strange effect. It's a very interesting anime because usually it's the humans who end up being terrifying and not the Mushi.
My favourite episodes are Lingering Crimson and Tree of Eternity because I am an angst bunny and just huhu that pain.
Season 1 is on YouTube and Season 2 is on Netflix and Crunchyroll.
INUYASHA
K so I'm not quite sure if this is a favourite but I watched at least 180 episodes (I skipped the fillers) so I thought I'd put it here because man that was a big commitment. Sure, I could've stopped but I wanted to know how it was going to end.
What did I think of it? I probably would've liked it better had I not marathoned the whole thing and probably if I was younger? But, I'm happy to report that I now understand the fascination with Sesshomaru. (That glorious, broody, majestic puppy <3)
Whew that's a lot of anime series. Do you binge watch? What have you binge-watched lately? (Or if you don't, what have you been liking to watch lately?)
JOIN MY FAVOURITE THINGS LINKUP:
RULES:
Write an entry about your favorite things.
They can be anything — books, movies, gadgets, websites, food, whatever you're feeling this month. There is no limit either. You can have just one favorite thing or twenty!
Link back to My Favorite Things (Raisa / Eirene)
In your entry, provide a link back to this blog linkup to give other people a chance to participate! Here's a handy optional banner for your convenience