I received this book for free from NetGalley in exchange for an honest review. This does not affect my opinion of the book or the content of my review.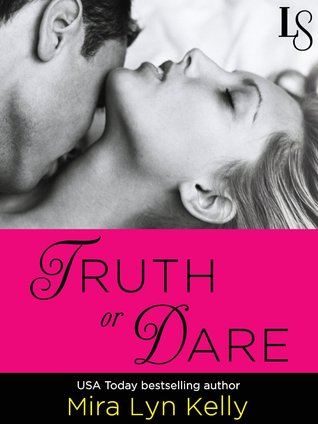 "in a deliciously sexy twist on the classic game, USA Today bestselling author Mira Lyn Kelly proves that when playing truth or dare—always choose dare.
After her one attempt at commitment ends with the discovery that her fiancé already has a wife and kid, Maggie Lawson vows that the only people she'll love 'til death do they part will be her friends. Unfortunately that means Maggie letting her bestie rope her into a year-long dating dare: score a new date each month or pay a penalty. Seems doable—until Maggie's date stands her up, leaving only one option: the sexy stud who just moved in upstairs. The problem? He and Maggie can't stop fighting—and that's just the beginning.
His name is Tyler Daniels and the last thing he needs is his neighbor distracting him with her girl-next-door smile and sharp tongue. Tyler's in Chicago for one reason: to woo back his selfish ex in order to reclaim the child he once thought was his—and that means keeping Maggie out of his bed. A tall order, since Maggie has become a bigger temptation than he ever expected to face. But before they can even consider leaving the past behind, Maggie and Tyler must accept a brand-new dare: real, forever love.
Sexual tension? check
Slow burn romance? check
Forced close proximity? check
If you're a fan of those three things and more, then you'd better check out Truth or Dare by Mira Lynn Kelley? Why? You mean besides having those three things? Well, it includes a group of great friends, a tortured-ish hero, an awesome heroine, shenanigans, and a really steamy romance that will leave you smiling. (It sure did with me!)
One of the things I really enjoyed between Maggie and Tyler was their meet cute. It was a misunderstanding that soon turned into snark and banter to hide that sexual tension that's slowly unraveling between these two. I also really liked how the pace of the book was set, with each chapter being a month. You see, Maggie is part of a bet where she has to go on a date with one guy each month. All of the people in her circle of close friends, know about this and Tyler learns about it as well. There were some certifiably hilarious moments and totally sweet ones. I really liked it.
I had a bit of a harder time sympathizing with Tyler, mostly because I've never had a child or kind of raised one. I didn't quite understand the struggle he had or why he was so hung up about it. It's not to say that Truth or Dare provided no way to bridge that gap, they did, but still at the end of it all I was feeling kind of meh about that. It did however paint a very clear picture of how loyal and loving Tyler is. I may not have understood it but I certainly respect how dedicated he was to that cause. And I also liked how the whole conflict was resolved. Also, thanks to Wallbanger, one of my weaknesses are heroes who can't resist the heroine's baked goods. And man, those scenes involving cookies? Great. So great. It also made me want to eat cookies, but that was easily resolved 😉
Maggie, for the most part, I felt was a wonderful heroine. She was fun to read and despite how reluctant she was to do this dare, she went ahead and did it anyway. I loved how understanding she was of Tyler and I really just loved how these two interacted with each other. The chemistry was excellent. And before I forget, Maggie is also such a strong character. She just faced her problems the best she could and won through them. I'm just really glad for Maggie and that she now finally has that happiness she deserves in her life. Although, I do kind of want to see some resolution or something between her parents. Maybe a novella of them meeting Tyler? 😀
All in all, I just felt that Truth or Dare set its tone in the beginning, showed us how it was going to accomplish all of it, and delivered on all its promises magnificently, y0u know? This made Truth or Dare a perfect light read (with loads of steamy scenes included) after a long busy day to unwind to.
ABOUT MIRA LYN KELLY
USA Today bestselling author Mira Lyn Kelly grew up in the Chicago area and earned her degree in Fine Arts from Loyola University. She met the love of her life while studying abroad in Rome, Italy, only to discover he'd been living right around the corner from her back home. Having spent her twenties working and playing in the Windy City, she's now settled with her husband in rural Minnesota, where their four beautiful children provide an excess of action and entertainment. When she isn't reading, writing, or running to keep up with the kids, she loves watching movies, blabbing with the girls, and cooking with her husband and friends.